Project Description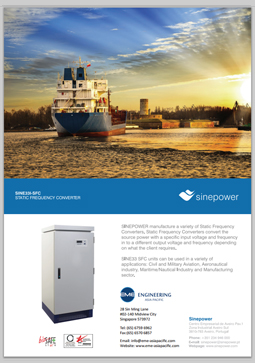 Sine Power
Static Frequency Converter
Suitable for variety of applications. Civil and Military Aviation, Aeronautical industry, Maritime/Nautical Industry and Manufacturing sector.
Guarantees a perfect sinewave input current with low THDi

Perfect for all sorts of extreme electrical conditions

Have no moving parts, except for the fans to cool the systems down
Sine Power
30, 45 , 60 & 90 KVA Solid State 400HZ Ground Power Unit
Guarantee a perfect sinusoidal input current from 25% to 150% load and a low THDi (<1.5%)
CE Marked Certified

High Efficiency (up to 95% efficiency)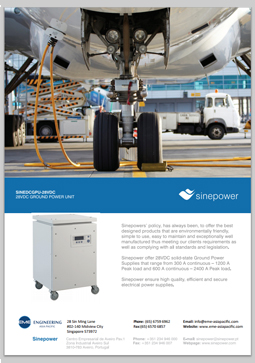 Sine Power
28VDC Ground Power Unit
High Quality, Efficient and Secure.
CD Mark Certified

Low noise emission